---
Enersol Solar Pool Heater
---
The Enersol Solar Pool Heater Advantage
---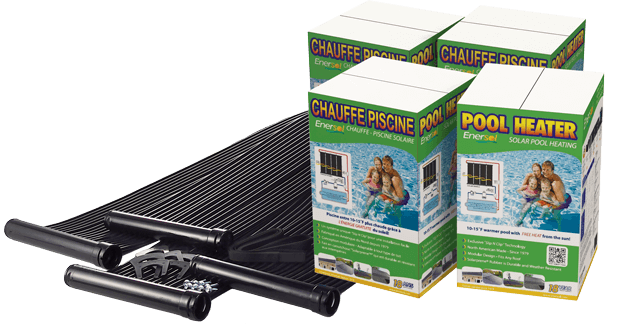 Solar pool heating panels are very efficient and the most cost-effective way to heat your pool. Most solar pool heating systems don't need extra power to operate. They use your existing pool pump to move filtered water through the panels and back to your pool. This allows solar pool heaters to reduce your heating costs and carbon footprint. Solar pool heating panels will also extend your pool season for more family fun.
So, why Enersol and no other brand? Here are a few highlights of the Enersol Pool Heaters
:
---
BUILT TO LAST
---
Long Lasting
The Solarprene® rubber used in the Enersol Pool Heaters makes them 
the most durable solar panels available. 
It is suitable for the worst Canadian winters or the hottest southern temperatures. 
It is
resistant to salt water,
harsh UV rays
and ozone and pool chemicals.
---
Highest Quality
Enersol manufacturers the solar panels to the highest standard and rigorous quality control. The operators inspect each panel to guarantee years of service.
One Time Investment
Unlike the natural gas heating, Enersol Pool Heaters are a one-time investment. Their primary heat source comes from the sun. You won't have to worry about costly monthly fuel bills after you install your solar pool heater.
Versatile
Because Enersol Pool Heaters are so versatile, you can install them anywhere the sun shines. Here are some options:
on the roof (home, pool change room)
on a rack
on the ground
---
---
Enersol offer the most durable and longest lasting solar heaters on the market!
---

View our photo gallery
---
SIMPLE, FAST, RELIABLE ASSEMBLY
---
Exclusive "Slip and Clip" Technology
This exclusive Enersol Technology allows for simple, fast and yet reliable assembly. You don't need extra hardware or tools to assemble the panels. The Enersol clips have been tested to disengage under extreme freezing conditions. This prevents piping damages and provides peace of mind.
Modular design
The modular design allows maximizing your roof or rack spacing in 1-foot increments. If you decide to add more panels in the future, you can add or remove them without much effort.
Perfect Fit
The Enersol proprietary injection-molded headers and clips are custom made of ASA thermoplastic. This material is ideal for outdoors use and guarantees perfect fitment every time.
---
EASY TO INSTALL
---
DIY or Professionally
The Enersol Pool Heaters were designed for easy installations. Whether you want to do it yourself or need professional help, the installation kit includes all the parts you will need.
Each Enersol Panel is packaged in a 9" x 9" x 14" box. This allows you lifting the panels to the roof without much effort. This is important for your safety and convenience. Each box includes the installation hardware.
The Enersol panels are made of rubber. You can bend the panels or walk on them, facilitating mobility on the roof during the installation. It will prevent you from walking around dangerous roof edges.
Roof vents and skylights on your roof… no problem! The Enersol header connector (HEC) offers you the versatility to navigate around them.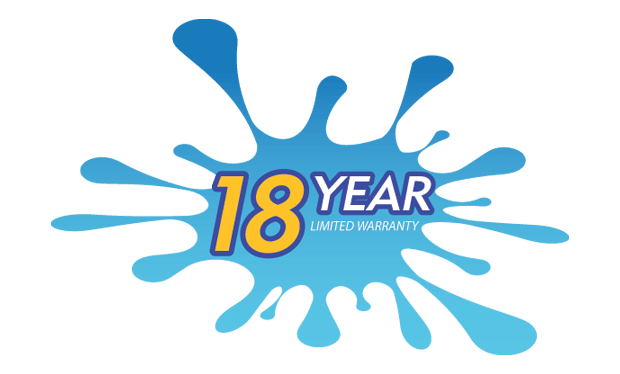 View our warranty information
---
TRUSTWORTHY BRAND
---
18 Year limited warranty
Enersol is proud to offer an 18-year limited warranty on the Enersol panels and components. Enersol Solar Pool Heaters assures:
Many years of worry-free use
Low maintenance cost
---
A COMPANY YOU CAN RELY ON
---
Enerworks
Enersol is a registered trademark of Enerworks. Enerworks is the leading Canadian manufacturer and worldwide distributor of Solar thermal technology.
Enerworks designs and manufactures proprietary energy saving solutions for commercial markets.
---
Enersol
We introduced the Solar Pool Heaters to the market in 1979. Its revolutionary design was so successful we are still selling them almost 40 years later. We have sold over 2 million panels worldwide since 1979.
Do you have a technical question? No problem! Our solar thermal specialists are one call away to serve you. you can also review our What You Need to Know Before the Installation page.
---
PRODUCT CREDIBILITY
---
ICC-SRCC Certified
Enersol Solar Pool Heaters have been evaluated and certified by Solar Rating & Certification Corporation (ICC-SRCC). This certification ensures that our panels meet minimum safety and durability criteria. Also it provides standardized performance ratings for different climates and applications.
For more information about SRCC visit www.solar-rating.org
---
FSEC Certified
Enersol Solar Pool Heaters are certified by the Florida Solar Energy Center (FSEC). The purpose of the tests is to verify performance and quality of construction. Also, our panels are certified for sale in Florida. Our Pool Heaters meet the minimum standards established by FSEC.
For more information about FSEC visit www.fsec.ucf.edu
Feel confident that your Enersol Solar Pool Heaters are certified by the trusted industry standard!
---
PROVEN DESIGN

---
Solar panels don't harm your roof
Enersol Solar Pool Heaters can protect the shingles from the sun. They can also help to take the heat out of the roof. They allow moisture to escape and the roof to breathe so your roof doesn't rot due to heat and condensation.
The panels are so durable that you may need to replace your roof before replacing your solar system. Luckily you can re-install it once your roof repair has been completed.
The Enersol Solar Pool Heaters are still able to draw heat from the roof after the sun has left the heaters. This means you will be heating your pool for longer hours. A Solar Control System can assist to optimize the performance.
---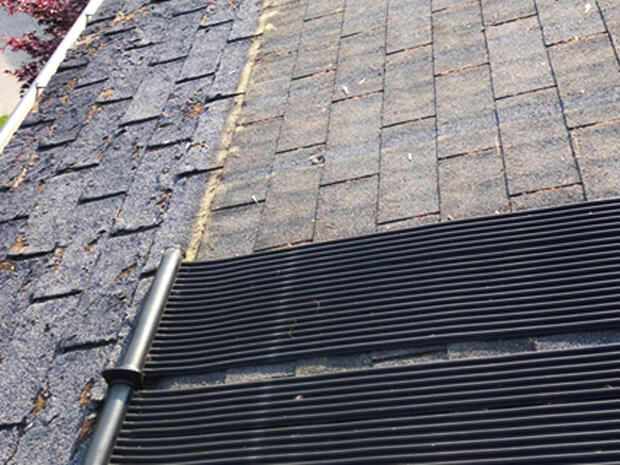 The picture shows a roof that needed repair after 15 years.
---
More about Solar Control System
---
OTHER BENEFITS
---
Unprecedented durability
Low or no maintenance
Extend your swimming and fun season
Green technology
Environmentally safe
Non polluting
Cost effective
No greenhouse gases
---