The Enersol Solar Pool Heating system heats your pool by capturing the sun's energy and turning it into hot water in a simple, yet effective way. Wouldn't you love to add up to 15°F to your pool with FREE HEAT courtesy of the SUN? Start today and save in pool heating expenses for the years to come!
Connector.

Pool water is pumped through the solar panels.

Connector.

Sun rays warm the water in the solar panels.

Connector.

Heated water is returned to the pool.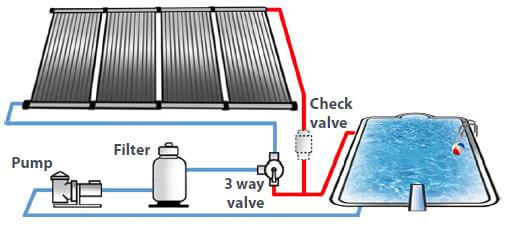 The best way to heat
your above or in-ground pool!
---
The Enersol Advantage
In general, solar pool heaters are very efficient and the most cost-effective use of solar energy. They don't require any additional power to operate since they work in line with your existing pool pump and filtration system. They have low cost of operation and a low ecological footprint, while extending your pool season for your enjoyment.
So, why Enersol and no other brand? Here are few highlights of the Enersol advantage:
Additional Benefits:
Enersol panels can help prevent damage by blocking harsh UV rays and reducing heat build-up in the attic.
One time investment since the primary heat source comes from the sun
Unprecedented durability
Certified by Solar Rating & Certification Corporation (ICC-SRCC)
Save money, courtesy of the sun!
Low or no maintenance
Extend your swimming season
Green technology
Environmentally safe
Non-polluting
Cost effective
No greenhouse gases
Use this sizing guide to help determine the number of boxes of Enersol Solar Panels needed for your individual installation. Panels come in multiple lengths, 8ft, 10ft and 12ft
In addition to the Enersol Solar Panels, you may need the following items per installation:
1 System Installation Kit
1 Check Valve
2 Ball Valves
Control System (Automatic or Manual)
Piping and Fittings
You can find any of these items from our parts page.
To calculate the number of panels you'll need for your installation, please enter the dimensions of your pool. In order to determine the optimal number of panels, please also enter the direction your installation will be facing.
Above-ground Pool
*Custom panel lengths available in 1ft increments from 6ft to 20ft long.
System Control
The Pentair SolarTouch® Solar Control System offered by Enersol features fully digital control for the most precise, efficient, solar pool heating possible. The automatic solar controller is set with the touch of a button and will monitor the temperature of the pool water and solar panels.
---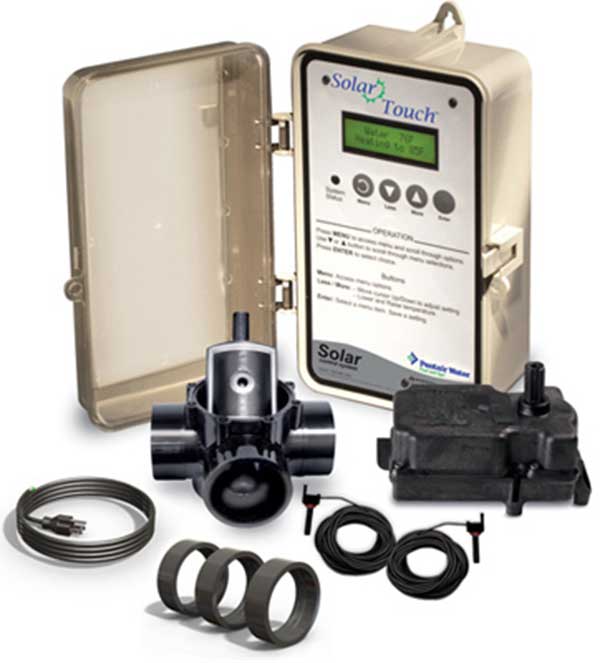 FEATURES
The Auto Controller will divert the water to the solar panels when there is sufficient solar energy to capture and turn it off when there are no more solar gains available or needed.
The Auto Controller can even be programmed to cool the pool if it gets warmer than the maximum set temperature; this is not often a problem in northern states and Canada but it is in the southern US, Mexico and Central America.
Partially sunny or rainy days are not a problem.
Rushing home in the evening to shut off the valve to the panels before it cools the pool too much is no longer a worry.
Whether to turn the system on or off over a weekend is all decided by the Auto Controller.
An additional benefit is that the solar panels are still able to draw heat from the roof 3 or 4 hours after the sun has left the panels. This is something it would not have been figured out without the roof sensor.
You will be always confident that the Auto Controller is doing the best possible job to maximize the solar energy available to heat your swimming pool.
3-year vendor warranty
Purchase online at www.solarthermal.com – ASC-PST-2000